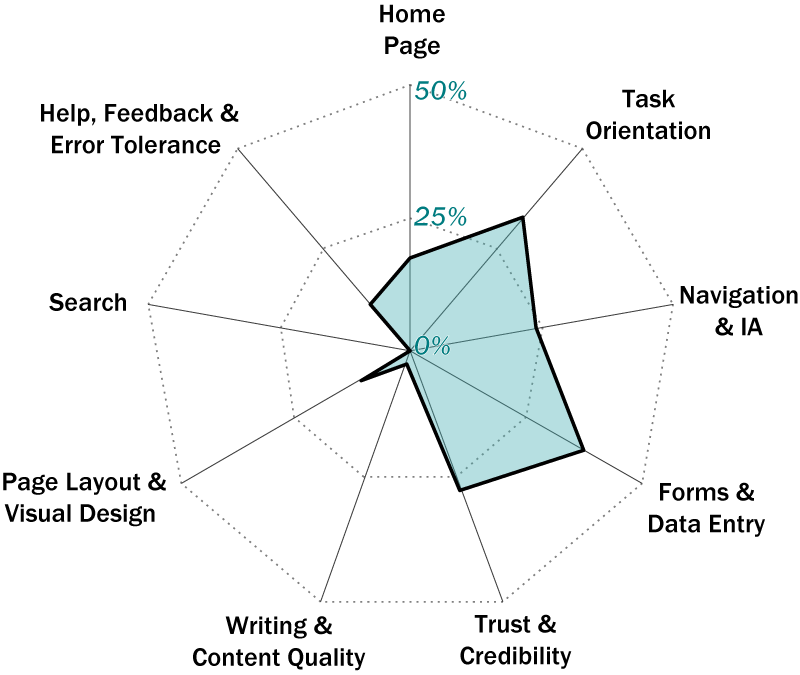 This chart shows the scores for each area. None reaches even 50% — earning the site an overall grade of "poor" — which demonstrates the need for immediate upgrades.

The Challenge
Even a small website is a complicated beast, with many pages, navigation, forms, and design issues. Evaluating a website in a useful, relatively impartial way can be difficult. How to tell a so-so website from a real stinker? How to tease out where the problem really lies? How to know if the problems are minor or so serious they're causing business damage below the waterline?
The Solution
The only answer is to evaluate it thoroughly against widely accepted best practices and document exactly where the site excels, where it meets expectations, and where it fails. I've done that with a site that has plagued me — I've declined to name it here since it's failed so miserably, but I am sending them the full report since I'm stuck interacting with their terrible website for the foreseeable future. It's the least an expert reviewer can do.
Context
A case study undertaken to learn expert review 
techniques
. I undertook an unsolicited review of a website to determine its usability based on widely accepted usability heuristics.
Goals


To gain a better understanding of the expert review process and heuristic principles by using them to evaluate an existing website.
Tools Used


Microsoft Excel, Word, and Adobe Illustrator.
Impact of User Centered Design Process


The heuristic principles used for this evaluation are well tested with real users and user tasks were kept at the center of the evaluation. The results were based on a point-by-point evaluation of the site, not on vague reactions or guesses. Without these steps it would have been difficult to be specific and holistic with the evaluation. Since this review was unsolicited, it's difficult to say what impact it would have, but I'm confident that if the recommendations were followed there would be a major impact on the user experience.